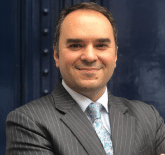 Thank you for your interest in The Ghanem Clinic. We will review your enquiry and one of our team we will be in touch with you shortly.
The Ghanem Clinic is an award-winning and pioneering centre of excellence in cosmetic medicine. With our expert team of cosmetic doctors, and unrivalled range of non-invasive treatments and scarless surgical procedures, there is no clinic better placed to help you achieve your aesthetic goals.
We look forward to the pleasure of welcoming you to our clinic and hope we have the opportunity to help you be the best version of yourself.
Best wishes
Professor Ali Ghanem