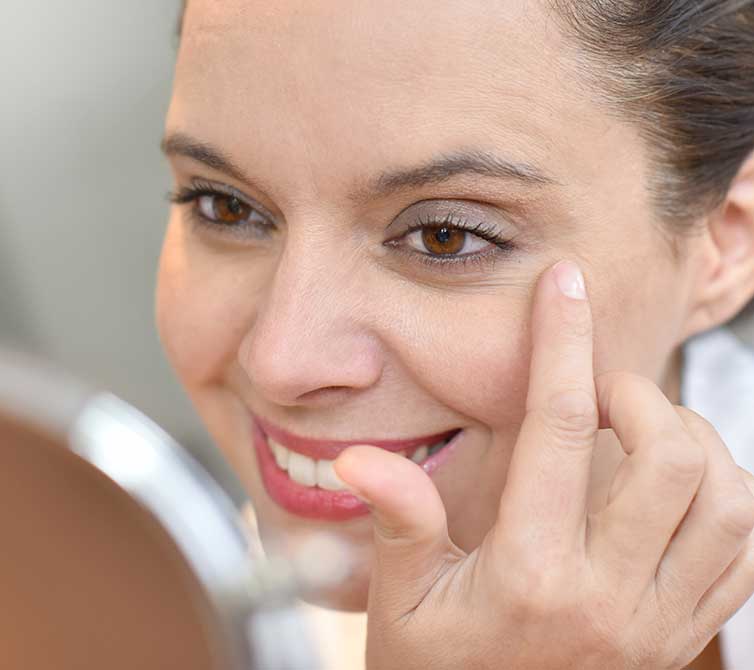 The Madonna Eye Lift is a laser resurfacing and rejuvenation treatment for the skin around the eye and on the eyelid. It will reduce wrinkles, tighten sagging skin and improve skin texture. The treatment is particularly helpful in tightening drooping eye lids and is an effective non surgical alternative to a blepharoplasty, with the benefits of reduced downtime, discomfort and cost.
How it works
The Madonna Eye Lift does not involve any incisions – tightening of the eyelids and area around the eyes is achieved with fractional CO2 laser resurfacing technology. In fractional CO2 resurfacing, only a portion of the treated skin is actually ablated (vaporized). The areas that are not ablated serve as a reservoir of skin cells for quicker wound healing. The destruction of old collagen and the delivery of heat from the laser stimulate tightening and remodeling of the collagen and other extracellular matrix skin elements, resulting in tighter, younger-appearing skin.
The Treatment
Topical numbing cream is applied to the area to be treated for one to two hours prior to the procedure. The actual treatment takes around 10 minutes – most of the treatment time is for the topical numbing to sit on the skin, and to put eye shields in place. You may feel some heat or slight discomfort, but generally the procedure is well tolerated.
After the treatment, your skin will be red and puffy in the treated area. Aquaphor will be applied to the area, and should be continued until wound healing is complete. There should not be any discomfort once the aquaphor is applied. You can expect to heal in about 3 or 4 days. After that time, you may still be red, but make-up can be applied.
Results
Although you can expect to see improvement from each treatment, for optimal results, we advise 3 to 4 treatments, with each treatment separated by several months. Some results are apparent soon after wound healing is complete. Changes in surface texture and discoloration are seen quickly. However, the full results of the treatment rely on stimulating the skin to heal and remodel. It takes several months to see the full results of each treatment.
Results from fractional CO2 laser treatments do not wear off. However, as you age, new lines or sagging may occur. You can re-treat as needed. Good skin care and sun protection will protect your investment.
The Madonna Eye Lift at a Glance
Topical anaesthetic cream if required
Immediate and improve over next 12 weeks